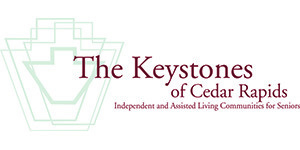 The Keystones Of Cedar Rapids Jobs
"Imagine a senior living community where people are encouraged to express their unique personality and talents to continue making meaningful contributions to their friends, family and community."
A central element of Keystone Senior is in our commitment to engage the interests, needs, wants and dreams of our residents which leads to experiencing an elevated life in seven key areas:
Emotional: humor, celebrations, music and the friendships that are developed.
Environmental: We have beautiful ponds and courtyards.
Intellectual: Brain fitness, cultural events, book clubs.
Physical: Fitness programs, nutrition, rest and self-care.
Social: conversation over meals, happy hour, lunch and dinner outing.
Spiritual: Faith-based programs and church services.