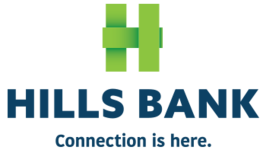 Hills Bank and Trust Company Jobs
At Hills Bank, we care about employees as much as we care about our customers and community. We know our strength lies within our staff. We not only value our employees input, we rely on it. We look to our employees, the experts, to continually share their ideas to improve services, processes, and to generally make things better. Our employees are our future.
Today, Hills Bank and Trust Company has grown to become one of Iowa's largest independent banks. We have achieved this growth the old-fashioned way — by earning our customers' respect, one at a time. We were founded on the principle that banks should care about the people they serve and provide ways to help them prosper. With our large asset base and community orientation, we offer the advantages of a large regional bank while maintaining the responsiveness of a smaller community bank.
We hope you will allow us the opportunity to show you the Hills Bank way of doing business.
EQUAL OPPORTUNITY EMPLOYER